Sculptshe is an online store which focuses on women's shapewear, bodysuits and waist trainer. Shapewear brings a lot of benefits for people, giving a better look in various types of clothes, especially on dresses. Shapewear will bring you comfort, coolness, sweetness, courage, and freedom to you. It enhancement your posture and abdominal areas, its comfortable and discreet, improves the appearance of your body and supports your bust area.
With Sculptshe shapewear you canprovide exceptional waist trainers. The main goal of the store is for you to live a stress-free life by helping you be carefree in the way you move and style yourself. The materials used by the brand are top-grade, highly elastic, breathable, non-irritable, and skin-friendly! Still not convinced? Sculptshe compared to other brands has a high-quality and also very affortable! The best? Shapewear has durable closures, YKK zippers, and Velcro to help prevent clothing mishaps! The adjustable straps will make it convenient for you to rearrange the shapewear according to your comfort.
Get full control and ultra-high compression hip-hugging with Sculptshe's shapewear bodysuits. Its perfect for almost every outfit. Is barely noticeable and smoothes out your tummy, erase your love handles and lifts your butt instead of squashing it down.
Sculptshe Detachable Straps Full Body Shaper Zipper Abdominal Control
With the bodysuit below you can have access to easy bathroom use with a zipper crotch. Its invisible under clothes, smooths and shapes in all the right places, tames your tummy, slims your thighs and give you the confidence you need in an outfit. The anti-rolling silicone strip provides a stay-put fit you can count on.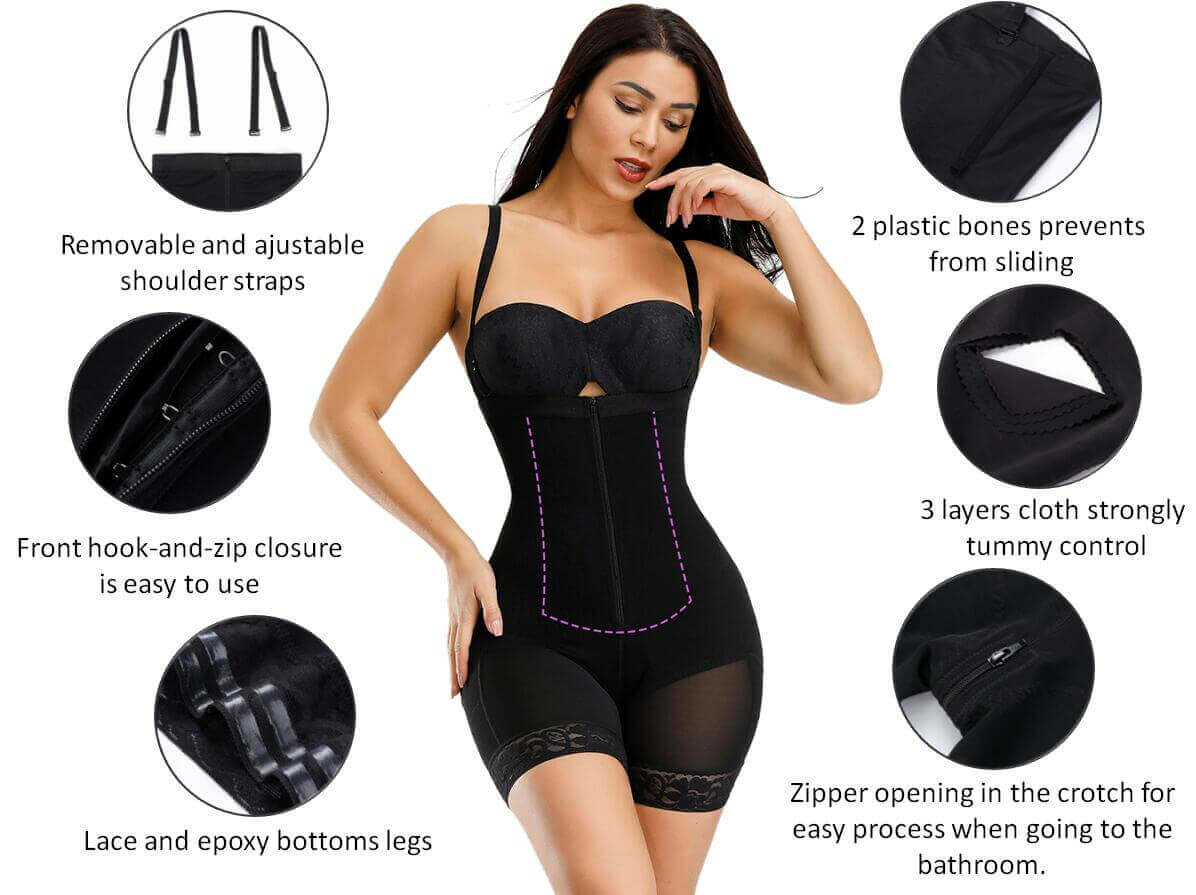 Sculptshe Adjustable Straps Tummy Control Thong Bodysuit
With this Adjustable Straps Tummy Control Thong Bodysuit, featuring a simple v-neckline with backless design, adjustable straps and a figure-hugging fit, you will feel better than ever in your outfits! This bodysuit shaper is perfect for your weekend wardrobe. You can use it with high waist denim and strappy heels.
The shoulder strap of this bodysuit can be ajusted and removed. Its also have 3 hooks of crotch design that are convenient for going to the toilet without problems. The high elastic mesh in the bust is suitable for different bust types and the inner layer of moisture-wicking fabric is comfortable and breathable.
Enjoy black friday shapewear in Sculptshe and change the way you think, the way you see your body, and the way you dress. Redefine how you wake up and get ready for the day by finding your most confident self, facing you in the mirror.
All you need to feel and look beautiful is a collection of women shapewear. These are bodysuits that will enhance your curves, tame your trouble spots and smooths your silhouette. Its so easy to feel confident and fabulous on an outfit with Sculptshe! Try now.